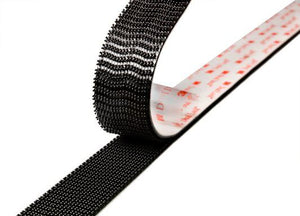 3M® Dual-Lock - 9ft
3M® dual Lock sold in 9 ft segments. This is our recommended method for installing power supplies and other pedals or DIs underneath our Elevation Series pedalboards. This holding power is ridiculous both in the actual dual lock being pressed together and the adhesive backing. This version of Dual Lock is ideal for powder coated metals such as pedals and our boards. Other versions of Dual Lock can have an adhesive not recommended for powder finished metals, ie various guitar pedals or our pedalboards and can cause damage to their finish over long term use.
Black Stems with black rubber based adhesive backing

Adhesive backing is general purpose and will adhere to most surfaces. Avoid fabrics and vinyls

Suggested indoor use only

Type 250 (250 stems/sq inch) Mates to 250, 170 and 400

Engaged thickness 0.25"

This product comes UNMATED. Therefore if you order 9 ft, it equals 4.5 ft of fastened material.
3M™ Dual Lock™ SJ3540 has mushroom shaped heads that snap together when pressed to itself. This product is a "Type 250" which means it has around 250 stems per square inch. It will "mate" to itself and 3M™ Dual Lock™ Type 170 and Type 400. When mating to Type 170, there will be less of a grip, with 400, it will be tighter. Most applications that will work the Type 250 has the added ease of only having to keep track of one "Type" of 3M™ Dual Lock™.