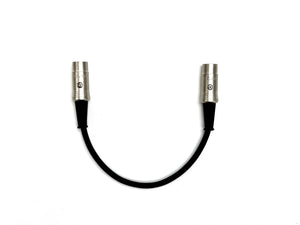 Custom Midi Cable - Straight/Straight
Our midi cables are awesome. Like, really awesome. We've been making these for wiring setups for years and are happy to finally be able to offer them as a standard offering on our website.

Here's what we do. We start by using really awesome Switchcraft midi plugs that you can loosen and rotate the pins to multiple different positions to change the orientation of the plug. It's pretty incredible. For straight plugs we use REAN straight midi plugs. Then we use Creation CMC-65 Midi Cable cut to length.

Here's why we believe ours are extra awesome. We've seen similar cables around and they're not bad, but they use a really thick midi cable. For pedalboards, a flexible cable is where it's at, and CMC-65 is excellent quality and flexibility.
Features:
- Hand soldered by humans
- Flexible Creation CMC-65 Midi Cable
- REAN straight ends
How we measure our cables - We measure our cables by the distance between the actual edge of the plug to the edge of the opposite plug. This INDLUDES the strain relief boot. The reason we start our measurement at 8 inches is because that is the ideal distance between linking together very common midi capable pedals. If you need a customized size, contact us and we can make minor adjustments (fees may apply).

*These cables are made to order. Please see our Build Times page for the most up to date lead time.*