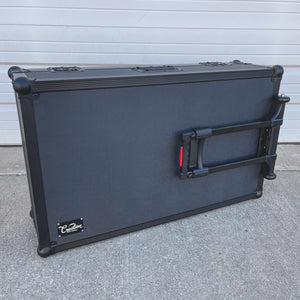 Make Custom Size Case With Black Hardware
If you're placing an order for a Custom Size Flight Case and want it made with all black hardware, this is the option for you. Add this to your cart along with the case and we'll make the change. 
What does this include? Making the case with all metal hardware and extrusion. It does not include the case itself, you still need to order it. This just modifies your order.
Why does this cost more on custom cases when it's included with the Standard Blackout Cases? 
The blackout cases are mass produced in a much larger quantity. Because of that, our supplier can send all the parts out to be powdered in one batch and the cost is spread out and built into the cost.
For our Custom Size Cases, we build them in house one at a time with parts from a different domestic supplier. While some of the hardware can be ordered in black, a few of the pieces and all of the extrusion (metal edges) have to be sent out for powder coating locally in smaller batches. 
*** Depending on current stock, this can add to the build time as some parts have to be sent out locally for powder coat. Contact us for a more accurate lead time prior to ordering. ***